Sarah Trevino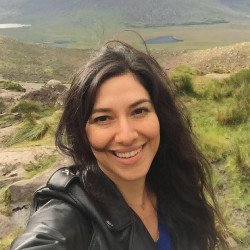 Sarah Trevino is the founder and head composer of Trevino Media; a full service music studio located in Santa Monica, CA.
Born and raised in Los Angeles, Sarah was passionate about music from an early age. Or, to hear her mother tell it, "What normal four-year-old girl hums Mozart while she's climbing the monkey bars!?" After much pleading with her traditional immigrant family, she convinced them to allow her to begin studying piano when she was seven, and she's been growing as a musician and composer ever since. Sarah began her music career at Universal's Elias Arts, a premier commercial music house, where she was mentored by famed commercial composer Jonathan Elias, eventually becoming the first and only female composer in the history of the company.
Sarah has composed, mixed, edited, and produced music for a plethora of national brands and worked on hundreds of tracks hosted by both Universal and Elias Arts professional music libraries. Many of the library tracks that she has worked on have been featured on network and cable television for shows such as American Idol, Access Hollywood, Are you Smarter than a 5th Grader, Breaking Amish, Dateline NBC, Fox and Friends, Fox College Football, Keeping up with the Kardashians, Late Night with Seth Meyers, Nascar on Fox, NBA Basketball, NFL on Fox, The PGA Tour, Premier League Football, Regis and Kathy Lee, Saturday Night Live, the 2016 Rio Olympics, and many more. Sarah's work has also been featured on dozens of commercials for a wide variety of household names such as Nissan, Infiniti and State Farm as well as several Super Bowl ads. In addition to her work at Trevino Media, she currently assists award winning film composer Brian Tyler and continues her relationship with Elias Arts as a freelance writer and vocalist.
Sarah graduated with honors from the University of Southern California Thornton School of Music with a Master of Music in Screen Scoring, where she was awarded the Alan Silvestri Scholarship, given annually to the top-rated applicant to the program. While at USC Sarah was selected to participate in the USC Thornton Board of Counselors Mentorship Program whereby she was privately mentored by world renowned composer Thomas Newman. In addition to her time at USC, Sarah graduated with honors from the University of California at Riverside with a Bachelor of Science in Business Administration. She has completed additional coursework in music theory, orchestration, and counterpoint at the Berklee School of Music with a 4.0 GPA.