Cali Wang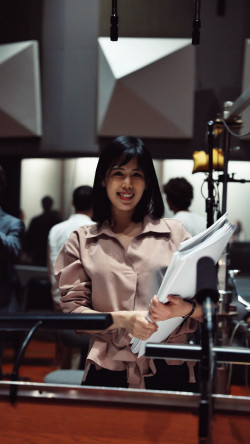 Born in Los Angeles but raised in Taipei, Taiwan, Cali Wang learned to play flute in the orchestra when she was seven. In high school, she found her love for rock and pop music, learning to play guitar and focusing on popular song arranging. It wasn't until she entered college at National Taiwan's University as a theater and drama major that the notion of being a composer even occurred to her; there, she was able to hone her chops writing for theatrical productions and dance choreography.
With her diverse musical background and a lifelong love of film and film music, Cali quickly found her passion in scoring. She has since worked in different mediums, from musicals, plays and exhibitions, to short films and commercials. Additionally, her studies in the performing arts have allowed her to approach scoring as it relates to character analysis and story development.
After undergrad, Cali worked on various TV series, commercials and short films in Taiwan. In 2017, her first symphonic piece, "The Adventure Begins", was performed by the National Taiwan University Symphony Orchestra in the opening ceremony of the Intercollegiate Athletic Games. That same year, she was honored to receive the John Nordstrom Scholarship, and moved back to Los Angeles to attend USC Thornton's Masters of Music program in Screen Scoring.
Cali is currently working on various film projects in Los Angeles, as well as assisting a number of working composers. She is honored and excited to be awarded this year's BMI Foundation Pete Carpenter Fellowship.
"MAD MAX: Fury Road" Rescore - Cali Wang from Cali Wang on Vimeo.
Parade of Gods (攻殼機動隊 Re-core Taiwanese / electronic ) from Cali Wang on Vimeo.