Rickie Lee Kroell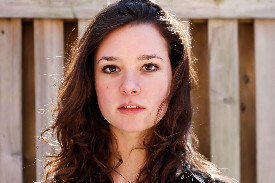 Rickie Lee Kroell is a composer and songwriter from Munich, Germany. Kroell received her bachelor degree in Composition at Berklee College of Music in Boston, MA. There, she collaborated with chamber groups performing own works and pieces by the New England based composers collective Canvas Sounds which she was a member of. The programmatic approach to composition within the collective, where works were set to art of different kinds (paintings, poetry, photography, etc.), was another wonderful way to include images - other than film - in the performed music. Through many collaborations with Italian composer, pianist and tech- scientist Alfonso Peduto, Kroell developed a passion to contribute to the technology art-world with vocal and solo dance performances (motion controlled sound design).
Before composing for chamber ensembles and orchestra, Kroell pursued a career as a songwriter and performer, touring Germany (and the internet) with her 2010 debut pop-jazz album "Otherwise" (for more info on her pop music and internet tour, click 'website' above). She has worked as a music editor prior to her studies at Berklee, and for German television before moving to Los Angeles, where she currently studies at USC, attending the Screen Scoring Masters Program. When not at the keyboard, she loves dancing, laughing, drawing, and hugging random dogs on the street.
12 Years A Slave Rescore Rickie Lee Kroell from Rickie Lee Kroell on Vimeo.
Der müde Tod (Fritz Lang) - Sequenz von Rickie Lee Kroell from Rickie Lee Kroell on Vimeo.