Nathan Drube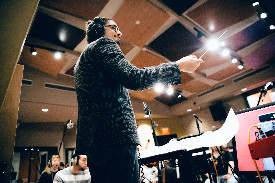 (For a look at my more recent work, please visit my website at nathandrube.com)
Hello,
My name is Nathan Drube and I love music, film and video games. When I was six-years-old, I remember watching "Indiana Jones and the Raiders of the Lost Ark" at my grandparents' house. My Grandmother turned to me and asked me at one point, "Did you notice the horns in that last part? They usually play when there is tension on the screen." That was the moment I really began to notice the music behind the films that would captivate my imagination. That captivation has stayed with me and became a driving force, leading me to devote the last seven years to the pursuit of studying music and building my career around composition.
Since I began composing, my musical focus has always gravitated towards the styles of action/adventure, horror, comedy and jazz film music. I have also taken advantage of every opportunity to study world styles of composition, including Indian classical music, various African styles, Middle Eastern and Celtic styles. Oddly enough, I am a guitarist who mostly indulges in playing metal and progressive rock. I have tried to set myself up to be able to tackle any musical challenge thrown my way because you never know where a story might take you.
When watching a film or playing a game, I always put myself in the character's shoes. Aside from the different stories and settings that capture my imagination, it really is the characters; their qualities and development that draw me into their world. The way I relate to them and communicate how they make me feel is through my music. Being able to share in, and contribute to a communal experience of the human condition is a transcendental experience that I have been working hard to, and will continue working hard to be a part of.
My journey up until this point has taken me from my home in the Mississippi gulf coast, to living in Nashville, New York City, and Boston. After earning my expert level certification in Pro Tools from Avid, I began my scoring studies with Berklee Online. I earned a certificate in Orchestration for Film and T.V and followed up my virtual Berklee experience by attending and graduating from the physical Berklee College of Music campus in 2016 with dual degrees in Film Scoring and Composition. During my time at Berklee I not only learned how to hone my craft, but I also had the wonderful opportunity to work with over two-hundred musicians through over twenty recording sessions of my original compositions. I was also awarded the BMI Student Composer Award for my works in film scoring and I was awarded the John Bavicchi Memorial Prize for my concert compositions. In my last semester at Berklee I was a part of the Berklee Silent Film Orchestra as a composer for the newly remastered film "Varieté".
On a small side note, a few of my favorite directors are: Ridley Scott, Christopher Nolan, Hayao Miyazaki, Stanley Kubrick, Tarantino, David Fincher, Guillermo Del Toro and of course Steven Spielberg. The most recent and frequent games I play would have to be: Destiny, Abzu, The Witcher 3, No Mans Sky and Zelda: Ocarina of Time.