Michael Zielski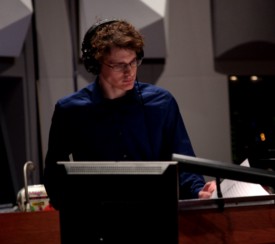 I'm a composer driven by a deep passion for music, cinema, and storytelling. I'm dedicated to working with filmmakers to help them achieve their vision and bring out the visceral and emotional dimensions of their work. Whether through a melody, texture, or color, I am always looking to express the heart of every project I work on.
Originally from Maine, I began teaching myself how to write music in high school, and received a Bachelor Degree in Music Composition from Hampshire College in 2013. During my undergrad, I had the opportunity to work with many student filmmakers from all over the world on a wide variety of projects; from dystopian epics to short promos and animations. During college, I interned with composer Daniel Licht while he was woking on the series Dexter. In the summer of 2015 I was a selected composer at the NYU/ASCAP film scoring workshop.
I draw on a diverse range of influences, and am continuously striving to find ways to bridge the gap between the techniques of classic Hollywood composers and the contemporary trends of modern film scoring. Some of my favorite composers are Bernard Herrmann, Howard Shore, Alexandre Desplat, Danny Elfman, and Jerry Goldsmith (to name a few). I work to bring out the unique voice of each project, and to create memorable and meaningful music that also serves its proper function within the film.
Being from Maine, I also love the outdoors, especially hiking on a beautiful fall day. I'm a huge film buff, and enjoy watching movies from all times and places. I also love Halloween!
I look forward to working with you on your projects!