Luke Knoebl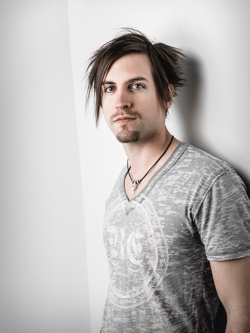 Hi!
My name is Lukas Knoebl, I'm a film music composer and audio engineer from Austria. In 2016, I came to Los Angeles to study Screen Scoring at USC Thornton.
I have been a frequent moviegoer ever since I was a teenager. Even at an early age, I was fascinated of being taken into another world by the synergy of picture and sound, so that it was just a matter of time until I took my first attempts at writing and producing music for films and games. With years of experience in composing for the media industries, I was fortunate to have contributed to a great variety of different projects, from scoring student movies to orchestrating and producing commercial album releases. What I really like about being a film composer is the challenge to write in every possible style and genre. I enjoy traveling and appreciate other cultures, which sparked my interest for world music and ethnic instruments, and hopefully improved my musical vocabulary.
Beside my passion for film music, my early musical roots can clearly be found in Hard Rock and Heavy Metal. Being a guitar player and composer of a Symphonic Metal band has undoubtedly shaped my musical career. Influenced by recent 'larger than life' film-scores, the concept of blending the aesthetics of Film Music and Rock culminated in the release of my band's latest album, which was recorded together with the prestigious 60-piece Czech Film Orchestra in Prague. Other than that, I am constantly working as an orchestrator, sound designer and composer for various established artists in the Rock and Metal genre as well.
Before I moved to Los Angeles in 2016, I received my Master Of Science in Electrical and Audio Engineering from the Graz University Of Technology, where I enjoyed a very comprehensive education in many aspects of music production and music technology. Beside taking courses in the field of electrical and informative engineering, acoustics, audio engineering and computer music, I chose recording engineering and acoustics as my specialized area of concentration. Furthermore, I completed a variety of complementary courses in the subject of music theory, orchestration, composition and other musical skills.
I am very much looking forward to be part of the Screen Scoring class 2017 at USC, being able to contribute with my efforts and collaborating with other students.
For more information, please visit my website! .