Drew Mikuska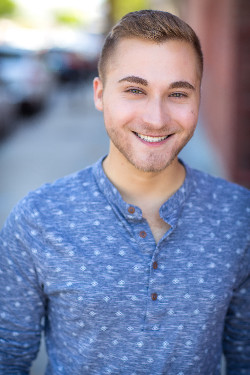 Drew Mikuska (b. 1994, Chicago, IL) is a film composer, conductor and orchestrator living and working in Los Angeles, CA. With a filmic and musical background from a young age that brought him through child acting in Los Angeles, the Broadway-in-Chicago stages, and many voice recitals, he finally discovered his passion for composition in high school after hearing the score to Hitchcock's Vertigo by Bernard Herrmann.
Mikuska recently completed his Masters of Music in Screen Scoring from the University of Southern California's Thornton School of Music where he has had the incredible honor to study with many working film music veterans, including Bruce Broughton, Christopher Young, Garry Schyman, Patrick Kirst, Eric Schmidt, Jon Burlingame, Chris Brooks, Dennis Sands and Dan Carlin. He was recently awarded the ASCAP Betty Rose Award & Scholarship, which is presented each year to an "outstanding, promising composer participating in The ASCAP Foundation Composer-in-Residence Program at the University of Southern California." Mikuska graduated cum laude in the spring of 2016 from USC Thornton's undergraduate program where he achieved a Bachelor of Music in Composition, having studied with Ted Hearne, Andrew Norman, Stephen Hartke, Frank Ticheli, Donald Crockett and Morten Lauridsen.
Mikuska was recently accepted into the 2017 ASCAP Film Scoring Workshop with Richard Bellis and eagerly awaits beginning this program in July 2017: "During this month-long, immersive program, 12 participants will get the opportunity to record an original composition with a 60-piece orchestra of LA's finest musicians on a major studio scoring stage, joined by a legendary scoring mixer, music editors, copyists and professional composers acting as mentors." This past summer, Mikuska was grateful to participate in the 2016 NYU/ASCAP Film Scoring Workshop where he was mentored by a gamut of esteemed film & television composers (including Sean Callery, Mark Snow, Ira Newborn, and Mark Suozzo). Through this program, he had the unique opportunity to re-score a scene for a chamber orchestra comprised of musicians from the New York Philharmonic and Metropolitan Opera Orchestra and recorded at New York University.
Mikuska also has had the opportunity to intern as a studio assistant with a variety of film composers in Los Angeles, including Joe Trapanese (Straight Outta Compton, The Divergent Series, Oblivion, Tron); at Remote Control Productions; and with Gabriel Mann (Modern Family, Rectify, School of Rock). Mikuska worked this past year with film composer Peter Golub as a music editor & supervisor for the projects which he recently scored. He also has had the great privilege of completing additional programming, score preparation and mockup work for a handful of other working composers in Los Angeles.
Over the course of the past three years, aside from independent composition work, Mikuska has also collaborated closely with countless directors in the USC School of Cinematic Arts on over 25 original short film scores – from fully synthetic scoring, to conducting and recording live scoring sessions, to a hybrid of the two. He has continued to collaborate on more scoring projects throughout his time during the USC Scoring Program and is very grateful for the many live scoring opportunities this program has provided him.
He is constantly being influenced and inspired by many genres of film, music, art and literature. The following is a list of people and works to which he feels a strong connection: Hitchcock, Tarantino, Del Toro, Kubrick, Anderson, Universal Monster Movies, Tim Burton, Broadway musicals including favorites "Ragtime," "The Secret Garden" and "Into the Woods," the Dirty Projectors, Billy Joel, Sufjan Stevens, Simon & Garfunkel, Caravaggio, Agatha Christie, Mel Brooks, Darren Aronofsky, Dario Argento... if you are a SCA student, shoot him an email and see if he is the right match for your project!
More original cues can be found at: www.soundcloud.com/drew-mikuska
If interested, please peruse some video content below in addition to the audio provided above: