Alex Cap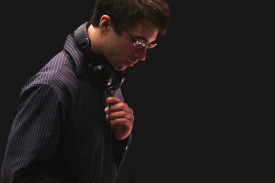 Hey, thanks so much for taking the time to get to know me and my work; I really appreciate it. I hope I can have the privilege of working on your next project with you, be it a film, a game, VR demo, or what have you. Here's a bit of my story:
I was born on Long Island in New York, but my family moved to north Jersey when I was very young, so that's really where I grew up. Like many kids, I started taking piano lessons from a very young age. But unlike many other kids, I stuck with it. Family movie night was a regular thing, and I played plenty of handheld and console games (mostly Nintendo). It was only natural that my childhood heroes would become John Williams (Star Wars, E.T., Jurassic Park, Indiana Jones, etc.) and Koji Kondo (Super Mario Bros., The Legend of Zelda), and I began imitating them in my very basic compositions in middle school.
In high school, I was "that guy" who played video game music on the piano any chance I got. I also took requests and learned new pieces at my friends' recommendations. During this time, I accompanied as well as sang in the choir, started taking violin and organ lessons, and began to get exposed to jazz through my piano teacher and playing in my school's jazz ensembles. When I then went to the College of New Jersey, my major was piano performance, but I did my best to keep up my writing with what little spare time I had, be it for a student video game, the Philly Game Jams or Global Game Jams, or just for myself.
It wasn't until after I graduated that I started getting into film, mainly via 48 Hour Film Projects and various student films. I spent 5 years after TCNJ freelancing as an accompanist, soloist, cocktail hour pianist, orchestrator, arranger, transcriber, and music prep guy while still participating in those weekend-long game-making and film-making competitions. While these weekends honed my skill of writing quickly and going with my gut instinct, I soon had a yearning for bigger projects that required more commitment. So, in December 2015, I applied to grad school, on June 23rd, 2016 I drove solo cross-country in preparation of my year at USC's Thornton School of Music, and on May 12, 2017, I received my Masters of Music in Screen Scoring. I now see why they keep saying that USC's program is the best in the world for this!
Although I already knew the emotional communicative power of music, the more I have matured as a musician, the more I have begun to appreciate music's ability to tell or elaborate upon a story. It is for this reason that I write today, and I would be honored to help you tell your story.
Please reach out to me with any questions or if you would like to meet up!
Visit my website for an "official" bio and more samples of my work.