Aaron Ishibashi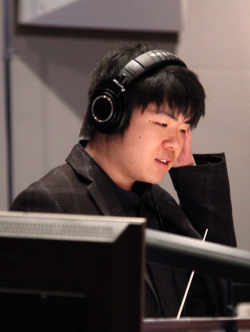 Aaron Ishibashi is a Japanese American composer for interactive media based in his native Los Angeles, California. He has had two works,
The Fortress (
2010)
and
Through These Trials
(2011) premiered by the Los Angeles Philharmonic, and a performance of
After the War
by members of the Boston-based Video Game Orchestra.
After the War
received 1st prize in the Noteflight Video Game Composition Contest and received remarks from the judge –
"The occasional appearance of tonality within atonality is absolutely beautiful"

– Yoko Shimomura
In addition to musical skill, Aaron is also certified in the Wwise audio engine, and is experienced integrating sound and scripting in Unity. He has scored and integrated games such as
Duel Magnets
(Mini Ludum Dare 74),
Smooch Strike
(USC Games, 2017), and
Tiler Teller
(USC Games, 2016), which was selected to show at the SAAM Arcade Independent Developer Showcase in Washington DC.
Aaron is thankful from the bottom of his heart toward his teachers, most notably, Michael McLean (Composition, Violin), Margaret Shimizu (Violin, String Orchestra), Kathy Sawada (Theory, Piano), and Warren Spaeth (Theory) from the Colburn School of Performing Arts; Thom Sharp (Film Scoring) at the Los Angeles County High School for the Arts; and Sean Friar (Composition), Garry Schyman (Composition, Bioshock) and Dan Carlin (Program Director, Screen Scoring) from the University of Southern California, Thornton School of Music, for all their care, guidance, and encouragement, and the developers and directors he has worked with. But more important than his career and even music itself, Aaron is thankful for His relationship with his Lord and Savior, Jesus Christ, and the fellowship he has at his church.