Laura Karpman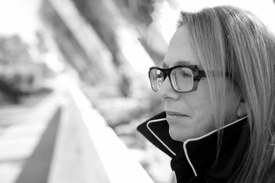 Four-time Emmy award winning and composer of the Grammy award winning album, ASK YOUR MAMA, Laura Karpman maintains a vibrant career in film, television, videogame, concert and theater music.
Her distinguished credits include the hit series UNDERGROUND which debuted this year, where she collaborated with Rapheal Saadiq and John Legend. Additionally, she has composed the scores for Eleanor Coppola's PARIS CAN WAIT, Kasi Lemmons' BLACK NATIVITY, Spielberg's miniseries TAKEN, the Showtime series ODYSSEY 5 and MASTERS OF SCIENCE FICTION (both Emmy-nominated). She has received two GANG awards and an additional nomination for her videogame music which has been performed by orchestras internationally. Commissioned by Carnegie Hall, Karpman collaborated with soprano Jessye Norman and The Roots on ASK YOUR MAMA, a multimedia opera on a text by Langston Hughes, which received its sold out premiere at Carnegie Hall in March 2009, and its West Coast premiere at The Hollywood Bowl and was revived at the Apollo Theater in Harlem. The recording received 3 Grammy nominations and won two Grammys.
Other notable projects include Wilde Tales, a children's opera commissioned by the Glimmerglass Festival, and directed by Francesca Zambello.Her opera Balls a collaboration with NY Times columnist Gail Collins based on the match between Billie Jean King and Bobby Riggs will receive a workshop premiere with the Industry, directed by Yuval Sharon in February of 2017. She has served as an advisor for the Sundance Feature and Documentary Scoring Labs, and is a governor of the Academy of Motion Pictures Arts and Sciences. Karpman is on the faculty of USC and San Francisco Conservatory of Music.
SCOR 502 PRIVATE INSTRUCTION
A one-on-one discussion about how best to approach a specific project(s) in terms of composition and harmonizing thematic material, then selecting an orchestra that its the needs of the Director and Composer. 15 weeks (2 units)