Samuel Weiss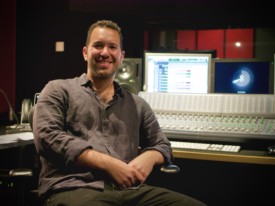 Sam Weiss is a screen music composer, saxophonist, conductor and musical director from Sydney, Australia.
Sam has composed music for film and television professionally since age 20, with several feature film, television (ABC & SBS TV) and short film credits spanning thriller, drama, action, documentary, comedy and animation.
Sam is an in-demand saxophonist and band manager, with over 120 performances in each of the last 3 years. Sam has performed in Asia, Africa, Europe and the Middle East. In his role as a band/artist manager, Sam has brought together artists from across the musical spectrum to collaborate on a range of performances, forming alliances and building a thriving community of musicians. By coming from a jazz background, formulating and developing musical ideas comes naturally to him.
In 2019, Sam completed a Bachelor of Music (Honours)/Bachelor of Commerce degree at University of New South Wales (UNSW), where he studied under leading Australian composers; Dr John Peterson & Dr Nicholas Vines (orchestration) Guy Gross & Andrew Scott (screen music), Alister Spence & Sandy Evans (jazz). As part of his major creative project for his Honours year, he composed an original soundtrack to a short-film version of Oscar nominated Australian film Lion (2016), which was performed live-to-picture by the UNSW Orchestra. Some excerpts from this are featured below.
In 2021, Sam continues to pursue a career as a screen composer as part of USC Thornton School of Music's world-renowned Screen Scoring program.
Sam has been a conductor of the Central Synagogue choir since 2014, widely considered one of the leading synagogue choirs in the Southern Hemisphere, for which he has written and arranged compositions.
As a musical director, Sam has pursued cross-cultural collaborations with the Hindu, Muslim, Christian, Aboriginal and Jewish communities to produce a range of original compositions and performances.
In this vein, Sam is the 2020 Composing Fellow for the Sydney Children's Choir (Gondwana Voices), who have commissioned him to write 6 choral works.
Sam prides himself on his easy going and collaborative nature, and loves working with people to tell important stories.
Please feel free to reach out at any time to tell a story, collaborate, exchange ideas, or enjoy the outdoors and go for a hike! Contact via www.samweiss.com.au