Mathias Coppens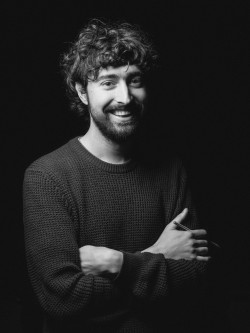 Mathias Coppens is a composer from Belgium based in Los Angeles, California.
He searches for colorful harmonies and is inspired by works of classical composers such as Fauré, Poulenc, Skriabin, Janacek and others..
Major influences within jazz are pianists Brad Mehldau and Tigran Hamasyan.
He loves Radiohead. He loves Thomas Newman.
He likes to drink beer and eat chocolate (both Belgian of course).
BIO
Mathias graduated with the highest distinction for piano and composition at the conservatory in Antwerp and graduated in composition with 'excellence' at the conservatory of Amsterdam. As a pianist he played several concerto's and is active as soloist. He is artistic leader of the ensemble deCompagnie and founding member of Tetragonist with whom he recorded two cd's (Aliud and Phaedra records). He wrote for leading ensembles, orchestra's in Europe and worked in theater: Casco Phil, Bl!ndman, Symfony Orchestra of Flanders, Brussels Philharmonic, Eric Ericsson Chamber Choir, Asko-Schönbergensemble, Hermes Ensemble, Oddyseia Ensemble, Mosa Trio, Kugoni Trio, Theater de Spiegel, muziektheater deKolonie. He is the artistic director of the Klavierfestival and co-organizer of labsummerclass. Mathias is prof at the conservatory of Antwerp and Luca school of arts.
Mathias is going trough the USC screen scoring program and was awarded a BAEF-scholarship.
Short films
Rescores