Yurun Wu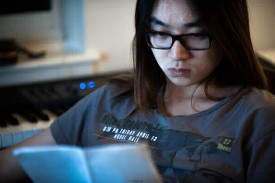 Yurun Wu, a film Chinese composer who is now based in Los Angeles. During the 4 years of undergraduate study of film composition and music production in San Francisco, the city that's in heat of contemporary art, he has acquired the knowledge and enthusiasm to create complex and sometimes eclectic film scores. His compositions span the gamut, stylistically.
Yurun has been working as a composer, arranger and orchestrator for Radioman Music Production in Nanjing, China since 2010. He is a main creative member for lots of film& commercial music as well as music for events such as the Asian Youth Games Ceremony 2013. He also worked at Strawberry Hill Music in San Francisco Bay Area, where he composed music for films and Podcasts like Hanging with Rock Starts. He interned with composer Carla Lucero for her contemporary operas Stereognosis and Juana, both are performed worldwide.
With his multicultural background, he looks forward to working closely with talented directors from all around the world in the Trojan family. He is willing to spend time listening and discussing in details in order for the team to create something artistic and unique. He hopes he'll be able to build life-long relationships with directors and producers, who are passionate about film and music as much as he does. Please do not hesitate to contact me if you want to know more about me and my music.