Yurun Wu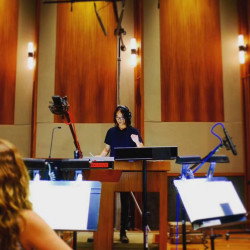 Hi, I'm Yurun, a film composer who now lives in Los Angeles. Music has always played a important role in my life. I started playing piano when I was little and later on picked up my guitar and drums. I was lucky to have my own rock band to perform our original songs in my city. During the 4 years of undergraduate study of film composition and music production in San Francisco, the city that's in heat of contemporary art, I have acquired the knowledge and enthusiasm to create complex and sometimes eclectic film scores. My compositions span the gamut, stylistically. I am now a student in the M.M Screen Scoring program and I was selected to receive The Harry Warren Endowed Scholarship.
With my multicultural backgrounds, I look forward to working closely with talented directors from all around the world in the Trojan family. I hope I will be able to build life-long relationships with directors and producers, who are passionate about film and music as much as I do. Please do not hesitate to contact me if you want to know more about me and my music.
The Gift Main Title- Rescore from Yurun Wu on Vimeo.
I Own you Nothing- original score inspired by the short film Lelantos from Yurun Wu on Vimeo.