Sarah Trevino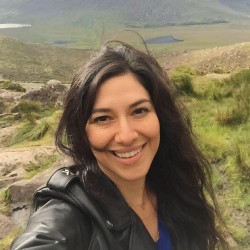 Born and raised in Los Angeles, Sarah was passionate about music from an early age. Or, to hear her mother tell it, "What normal 4 year old girl hums Mozart while she's climbing the monkey bars!?" After much pleading with her traditional immigrant parents, she convinced them to allow her to begin studying piano at the age of 7, and she's been growing as a musician ever since. Despite her lifelong devotion to music, Sarah attended UC Riverside and received a degree in Business Administration with honors. However, after less than a year of working in the corporate world she realized music was more than a personal passion, it was her professional calling, and so left her advertising job at DDB to pursue a career as a composer for the screen and visual media.
Sarah began her music career at Elias Arts, a premier commercial music house, where she was mentored by famed commercial composer Jonathan Elias, eventually becoming the first and only female composer in the history of the company. Sarah has composed, mixed, edited, and produced music for a plethora of national brands and worked on hundreds of tracks hosted by both Universal and Elias Arts professional music libraries. Sarah's work has been featured on dozens of commercials for a wide variety of household names such as Nissan, Infiniti and State Farm as well as several Super Bowl ads. So, if you don't own a DVR, you've very likely heard some of her work.
She is adept at scoring across a wide array of moods, styles, and genres ranging from classical orchestral scores to jazz to pop to EDM. Her significant real world experience has not only honed Sarah's abilities as a composer and producer, but has also groomed her to be an efficient yet meticulous writer who has never once missed a deadline.
Sarah recently began her graduate study as part of the Master of Music in Screen Scoring class of 2018 at the University of Southern California Thornton School of Music, where she was awarded the Alan Silvestri Scholarship, given annually to the top rated applicant to the program. Sarah was also selected to participate in the prestigious USC Thornton Board of Councilors Mentoring Program and is currently being privately mentored by world renowned composer Thomas Newman. She has completed additional coursework in music theory, orchestration, and counterpoint at the Berklee School of Music with a 4.0 GPA.
Upon graduation, Sarah hopes to transition from scoring commercials to scoring films. Having spent years helping to tell the story of a specific product or corporate culture, Sarah is eager for the opportunity to help tell the important stories of her generation.