Michael Shlafman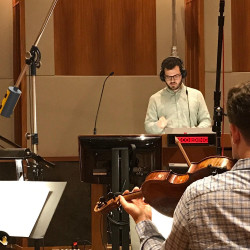 About me:
I'm a composer from Montreal, and I've been living in Los Angeles studying and scoring films for the past four years. I've always loved watching films, and of course listening to film scores – but what really drew me to film scoring was the collaborative aspect. Working with creative and talented people to make something that is greater than the sum of its parts is very special and is what motivates and inspires me to give my absolute best to every project. The right music can help elevate the emotional content of a film to a place that is, in my opinion, not possible with film or music alone.
My musical approach:
I've become very interested in the direction that contemporary scores are going, and about finding the balance between sound design and music – a line that is becoming more blurred all the time. My music is informed by my training from having studied jazz composition, then classical composition, and having performed as a guitarist in different bands in a variety of musical styles. I like to challenge myself and try to always keep my approach fresh, so that I am constantly growing and evolving.
I am very excited to be working with the talented USC film students, and I hope you will reach out to me so that we can make great movies together!