Jesper Ankarfeldt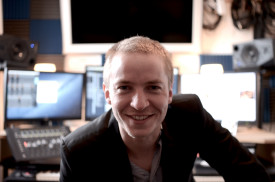 On this page I've attached a couple of pieces that I've written for different film and TV productions, all of which I really enjoyed making.
Rather then a catchy title I've tried to put these in a bit of text context.

I believe film music should be listen/seen in context of their actual scene/movie. On my webpage you can find some clips of this (as well as much more of my music). If you are interested in some full length films, please don't hesitate to write me.


About me
I love films and I love music, and the last many years I've been extremely fortunate to make a living from combining both. One of the things that also brought me in to film music is the constant collaboration with other talents and film makers, which is something I sincerely enjoy. One great thing about this interaction is that it often ends up in results a single person never could have achieved, which I find almost magical.
If it's a bumpy road or smooth ride, we always get there together.

About my music
I love diversity in all it's forms, and I think my music reflects that in many ways. This though often makes it hard for me to describe exactly what type of music I'm writing.
And the thing is, when it comes to a specific project, it's always the project that dictates what type of music and how much of that music, will help the narrative, the best possible way.
Those specifics is what I always try to achieve. If it means I have to bring out the big orchestra, a lonely exotic folk instrument or something new yet-to-be-explored sound...

End words
So with that I'll inviting you to invite me to collaboration with you, and I promise we'll make some magic together.
I'm a film composer, but more importantly, I'm a FILM MAKER!


Recording session with small orchestra in Amsterdam