Duy Tran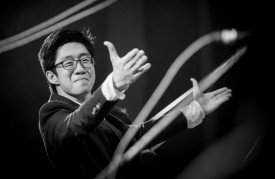 Duy Tran is a music producer, orchestrator and composer for concert and visual media. Born and raised in Vietnam, he is currently residing in Los Angeles. His music has been showcased in numerous film festivals, including HollyShorts Film Festival, Rwanda Film Festival, Naples International Film Festival…He is also the recipient of the "Best Music and Sound" award of The 48-Hour Film Project 2017.
As a frequent binge-watcher of TV shows and movies, it is no wonder Duy follows a career that contributes to the process of film making. He loves the art of storytelling, and admires the thoughtfulness that filmmakers dedicated for their works. Therefore, he is determined to bring the director's musical visionary to life. Due to the advancement of online communication, Duy Tran believes that there are no boundaries in creating music. Hence, the composer is keen on seeking musical opportunities from all over the world.
Duy Tran received his Bachelor of Music in Composition at Musicians Institute, and he is currently attending University of Southern California to pursue Master of Music in Screen Scoring.

Winner of "Best Music & Sound" Award - 48 Hour Film Project
Permission is granted for this video to be publicly viewed on this website