Duy Tran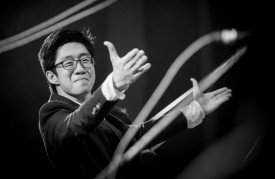 I am a composer for concert and visual media. Born and raised in Vietnam, I am currently residing in Los Angeles. My music background starts with classical piano, and later on I ventured out to other contemporary genres.
As a frequent binge-watcher of TV shows and movies, it is no wonder I follow a career that contribute to the process of film making. I love films, and admire the art of filmmaking. That is why I love bringing the director's visionary to life.
I have composed music for clients such as Sony, Samsung, PNJ Jewerly, Lam Gia Khang Fashion... Additionally, my music has been showcased in numerous film festivals, including HollyShorts Film Festival, Rwanda Film Festival, Naples International Film Festival…I am also the recipient of the "Best Music and Sound" award of The 48-Hour Film Project 2017.
I received my Bachelor of Music in Composition at Musicians Institute, and now I am here at USC!
Music for "SONY A6000 & SONY A6300" Commercial
Music for "Lam Gia Khang Fall Winter 2016 Collection"