Brandon Jung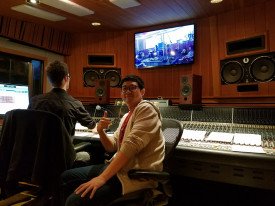 How did you get into film scoring?
After graduating Berklee College of Music in 2004, I landed a job writing music for Television shows in Los Angeles. Which led to more gigs in the industry. Just trying to keep on surviving.
What was the most, craziest musical experience you had?
Tried pulling 40 minutes of music from 60 piece orchestra in one 4 hour session in Czech Republic. You can hear the result in some of my music samples.
Favorite Movie?
Tough question, but "Eternal Sunshine of the Spotless Mind" made me balling.
Favorite Videogame?
Final Fantasy VI (Celes theme is my favorite game music theme), Destiny (Completed all heroic raid challenge modes!)
What is your greatest achievement in life so far?
Being a husband, and the father to 3 beautiful girls and 2 amazing boys.
Why are you in the USC Screen Scoring program?
To be a friend with whoever is reading this. I am sure I have much to learn from you and let's start building a lifetime-long friendship and artistic comradery!
Brandon Jung Music Composer / Producer M400 Music 4 Creative Minds http://www.m4hundred.com IMDB: http://www.imdb.com/name/nm5407563/?ref_=nv_sr_1
La vita è bella
Cadillac Escalade Television Spot
Transformation
Skyfall Rescore
Queen of Hell
Enter the Rapture