Chris Poetz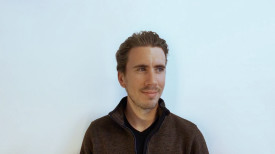 Chris Poetz is a composer from St. Louis, Missouri. He currently writes music for film and visual media. He holds a bachelors degree in Composition from Webster University, and a masters degree in Screen Scoring from the University of Southern California.
Specializing in music that is melodic, eclectic and innovative he enjoys working on projects that allow him to create music that resonates emotionally with the viewer and draws them in. Orchestral to minimalistic to indie, he enjoys writing in a variety styles while incorporating his own personally voice to create something unique.
Chris is continuously inspired by the works of Michael Giacchino, Rob Simonsen, Harry Gregson-Williams and Ennio Morricone. Some of his favorite artists and bands include John Mayer, Snarky Puppy, Foreign Fields, and Sting.