Tina C. Wang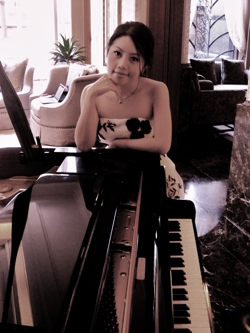 Tina was born and raised in a beautiful and multi cultured island called Taiwan.She started playing piano around the age of 4 and starting to compose when she was 8 years old. Having high interest in music, she never give up her dream of becoming a film composer.After she got her bachelor degree of composition in Taiwan, she worked about 10 years in Asia music industry for orchestra/musical/advertisement/film music/video game music as a composer/music director/producer.
Tina is also doing well in Asia pop music industry as a pianist/arranger/songwriter. Worked with Sony/Warner/Universal/EMI name label companies. During the past 5 years she had joined world tour concerts as a pianist with a well-known Asia pop singer SHOW LO for more than 100 concerts with over 1,500,000 people attended the show. From classical background to the pop music industry, she had learned many different experiences and combine it to be a unique style of her own.
She also loves traveling around the world to enrich herself. She had been to many different countries with diverse background such as Africa/Turkey/Israel/Bhutan/Sri Lanka/Vietnam/Indonesia/Nepal/Australia ext.Through traveling, she can broaden her horizon and get new inspiration for her music. For Tina, film music is like an ocean and other forms of music are like rivers that will eventually flow into the embrace of film music.
Tina graduated from SMPTV program 2016 with an honor Georges Delerue Conductor Award. Looking forward her adventure and keep fighting for her Hollywood dream.
re-score for Chinese movie "HERO" composed & conducted by Tina C.Wang @ Warner Brother Studio LA with 65 pieces Hollywood orchestra 2016
re-score main title for movie "Drag me to hell" 2016
Scoring for short film for China Resources(CRC) 10 year anniversary 2014
Taiwan Quanta Philharmonic Orchestra world premiere composed & solo pianist by Tina C.Wang 2010
Re-score for movie "Bourne" composed by Tina C.Wang