Raashi Kulkarni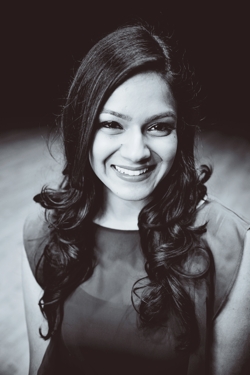 Raashi Kulkarni is a Los Angeles-based composer and pianist, and graduate from the SMPTV Program at University of Southern California's Thornton School of Music. At USC, she received the Joe and Alice Harnell Scholar Award for Scoring for Motion Pictures and Television. Prior to USC, Raashi graduated with a Bachelor of Science in Economics with a minor in Music from The George Washington University, where she was a Presidential Arts Scholar.
At age seven, Raashi began taking piano lessons. By age eight, she was composing. At age nine, she took up flute. At ten, Raashi arranged and performed the background score to her school play. What had started in lessons and recitals turned into collaborations and notable performances as her passion for music grew. While in college in Washington, D.C., Raashi performed for various special events, including GW's Freshman Convocation, an inaugural ball welcoming President Obama, and as the official pianist for the Egyptian Ambassador. After graduation, she continued composing and performing while working full-time.
In the past five years, Raashi has performed in concert tours across the globe with several prominent artists from the United States and India, including world-renowned Bollywood composers, Vishal Dadlani and Shekhar Ravjiani. She has performed at the Kennedy Center, Patriot Center, Smithsonian Museum, Warner Theatre, Kodak Hall, and more. Her YouTube piano covers, which are arranged solely by ear, have been recognized by iHeartRadio, On Air With Ryan Seacrest, Capitol Records (as part of Beck's successful GRAMMY campaign), YouTube India, and Pharrell Williams' partnership with The United Nations Foundation.
The driving force in her career, that early interest in composing continues to bring new opportunities to hear Raashi's music on a variety of screens. She has scored several promotional videos, short films, and an independent film showcased in the Slamdance and D.C. International Film Festivals.
Post USC, Raashi has worked with composers Christophe Beck (Frozen, Trolls, The Hangover), Mark Kilian (The Matrix Reloaded, Pitch Perfect), Blake Neely (Arrow, Supergirl, The Flash, Legends of Tomorrow), David Steinberg (Million Dollar Listing, Mapplethorpe: Look at the Pictures), and Jongnic Bontemps (The Land, Then There Was Joe). She is set to score several short films in 2017 and will be releasing her debut EP in the spring.
Raashi enjoys her free time with family and friends, watching movies, traveling, eating anything chocolate, and doing bhangra.
www.raashikulkarni.com
info@raashikulkarni.com
www.facebook.com/RaashiKulkarni
Warner Brothers Session for 65-piece orchestra:
Composer Reel for 2015-2016: