Prashanth Srinivas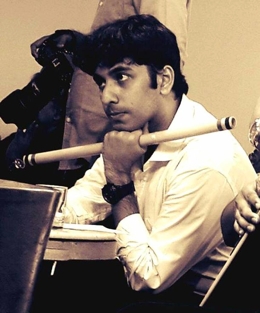 As a performer, Prashanth is trained in Vocal Indian Classical Music for 8 years in Mumbai and has learnt Piano under Dr. Adam Greig, from KM Music Conservatory, India's first Western Classical Music Conservatory founded by Oscar winning composer Dr. A.R. Rahman. Furthermore, the Indian Bamboo Flute (Bansuri) also forms an integral part of his musical paraphernalia. Since he took up music full time, in the last two years, he has performed as a vocalist, pianist and flautist for various musical events around India.
As a music composer, he is deeply interested and experienced in fusing his musical ideas and thoughts as part of larger artistic entities, like movies, theatre or social causes. An Audio Engineering Diploma from the SAE Institute in Singapore, naturally enables him to foray into the electro-acoustic world of music. Early Hollywood composers like Bernard Hermann, Ennio Morricone, moving on to John Williams and Jerry Goldsmith and finally more recent ones as Hans Zimmer, Alexandre Desplat and Danny Elfman; all count among his musical inspirations.

In addition to music, he holds a Bachelor's Degree in Computer Science from Nanyang Technological University in Singapore. He loves travelling, exploring new cultures and cuisines, that tantamount to his diverse artistic expression, culminating in his maiden musical initiative celebrating the wide panorama of the genre-free music of today - RagaHaus.

Follow us on Facebook @ RagaHaus Facebook Page
For more of RagaHaus' music visit our web-site @ RagaHaus - Prashanth's Musical Home
Follow Prashanth's latest musical updates on Soundcloud @ Prashanth's Soundcloud Page

A short scene from the 2007 film Ratatouille Re-scored and Re-orchestrated with Originally composed music and Sound Design



A scene from the 2012 film Life of Pi Re-scored using a 65 piece orchestra at the Warner Bros. Studios