Peter Lam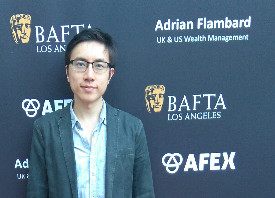 Born in Hong Kong and musically trained in London, Peter is an award-winning composer based in Los Angeles. Graduated from the SMPTV program at USC - Peter studied with distinguished composers including Christopher Young (Spiderman 3) and Bruce Broughton (Silverado). He was also being privately mentored by Alan Silvestri (Back to the Future, Forrest Gump) through the USC mentorship program, and has recently been awarded a BAFTA Los Angeles scholarship by the British Film Academy (BAFTA).
Passionate in creating music for film and media, Peter has scored over 25 short films of various genres - from animation, drama, to documentary. Recent scores include: documentary Lost & Found which is selected at this year's Cannes Film Festival (Short Film Corner & American Pavilion) and animated short Lovebites which was awarded and selected at over 10 film festivals internationally, and has gained over 2 million views on Youtube. He has contributed music for over a dozen projects during his time at USC, ranging from 508 to 547 & 581 thesis films, animation thesis, and independent projects with professors at the SCA.
Prior to USC, Peter graduated from King's College London with first-class honors in music, majoring in composition. Alongside his degree, Peter studied film scoring at the Faber Media Music Academy, orchestration at the Royal Academy of Music, and ethno-musical composition at the School of Oriental & African Studies. As a concert music composer, his works has been performed by the Dulwich Symphony, Oxford Maqam, King's Philharmonic, and Ensemble Novus amongst others, and has been commissioned by Arts Council England on performing arts projects.
Aside from film and music, Peter enjoys travelling and exploring different cultures, and being an avid soccer (football!) fan.