Michael-Alexander Brandstetter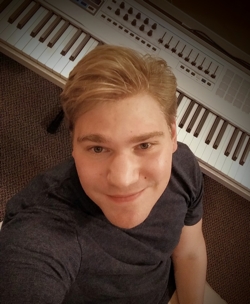 Michael-Alexander Brandstetter was born in Vienna, Austria.
Feel free to check out mySoundCloud Profile here: https://soundcloud.com/michael-alexander-brandstetter
At age seven he taught himself to play the piano. He developed an interest in film music after having heard Michael Kamen's soundtrack to X-Men (2000). He then started studying piano.
His brother, a screenwriter, directed several local low-budget films, which allowed Mike to take his first steps as a film composer.He went on to compose classical music, which was performed at Altenburger Musikakademie in 2009, and also developed an interest in the theory of music.
Still in high school, he went all crazy about the development of musical scales and tunings and built his own monochord, on which Pythagorean tuning can be demonstrated. The monochord is currently on display and used in lectures at the University of Vienna. He also created a sample library with it. You can hear it in the Demo Track "Monochord Gone Wild".
In 2011, he did his social services at an orphanage for teenage refugees, who'd lost their parents before or while escaping to Austria. He gave some of them basic piano lessons, which showed him once again how important music is to the human psyche - giving us a medium to directly and intimately express emotions.
Mike started studying audio engineering and media composition at Pop Academy Vienna as well as musicology at the University of Vienna. His Bachelor's Degree in musicology and his license as a sound engineer were received in late 2014.
In June 2014, he was selected to participate in the
NYU ASCAP Film Scoring Workshop
, the result of which was a re-score of the film
"Bruce Almighty"
.This cue was recorded with selected musicians of the New York Philharmonic Orchestra during the workshop.
Apart from student short films, jingles and commercials, Mike was fortunate to gain practical experience during an internship at Remote Control Productions in spring of 2015.
He could already gather experience in collaborating with young filmmakers at USC's School of Cinematic Arts and is looking forward to new collaborations.