Marco Valerio Antonini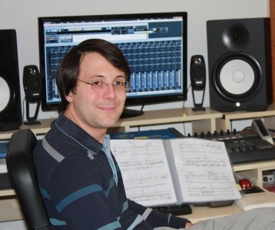 Marco Valerio Antonini is an Italian film, TV and videogame composer He studied Composition and Orchestration at the
Santa Cecilia
conservatory of Rome.
He attended the Film Scoring Master Class Fotogrammi e Pentagrammi, taught by the Oscar-winning composer Nicola Piovani (Life is Beautiful) (2009), and is currently enrolled in the 2015-2016 Scoring For Motion Pictures and Television program at USC Thornton School of Music.
In 2016, he was admitted to the prestigious ASCAP TV & Film Scoring Workshop with Richard Bellis, in L.A., and here's his final cue, recorded by a 64 piece orchestra at the Newman Scoring Stage on the 20th Fox Lot.
Re-scoring exercise from Rango, a Nickelodeon/Paramount picture
Re-scoring exercise from What Dreams May Come, final USC project
After scoring a number of student films in collaboration with filmmaking schools in Rome, including the renowned CSC Centro Sperimentale di Cinematografia, he was selected for the 2011 New Cinema Network workshop, scoring the winning short film, presented in many independent film festivals throughout the years.
In 2013 he composed the original soundtrack for the Istituto Luce Cinecittà documentary Profezia. L'Africa di Pasolini, about the famous Italian poet. This film was invited at 70th International Venice Film Festival.
That successful experience started a continued collaboration with the Istituto Luce Cinecittà documentary production company, with two new documentaries, both presented at international film festivals.
In 2015 another documentary with Marco's music has been invited at 68th Locarno Film Festival (A qualcuno piacerà: Storia e Storie di Elio Pandolfi, produced by Produzione Straordinaria).
As an engineer, in 2013 he mixed the score to Sotto Voce, a Moroccan film by Kamal Kamal, who wrote, directed and scored the film with the Budapest Symphony Orchestra. The film was presented in 2013 at Dubai Film Festival.
In 2014 Marco conducted a 50-piece orchestra in the Forum Music Village Scoring Stage in Rome, recording his score to a motorsport documentary produced by the Passione Rossa Ferrari Club Italia.
He is eager to experiment in every style of composition, from orchestral scores to jazz bands, and he feels comfortable in fulfilling the picture needs with any colour and musical tool. His first attention goes to the symphonic orchestra, to which he likes to intermix modern textures and sounds as well. Since september, 2015, he's been collaborating with many directors from the USC School of Cinematic Arts, having scored a number of short films for the 508 MFA class, as well as 546 and 547 thesis projects, and two animation senior projects.