Alex Heinrich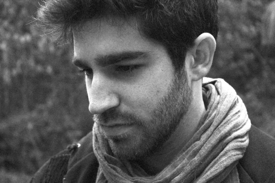 I always seek purpose in everything I do. For me, music has a greater purpose when supporting or emotionally enhancing a story. The simplest musical ideas can have a huge dramatic effect when effectively synced to picture, and this is what excites me about composing music to picture.
My greatest skill was acquired by being raised by my engineer genius dad who can fix absolutely anything that's broken and can always find - or create his own - solutions to any problem. That mindset allowed me to excel learning the instruments I wanted to play, the styles and genres I wanted to perform or write, the softwares and equipment that allow me to produce better sounding music and it's been my greatest asset in being a dramatist while writing music to visuals.
My musical journey began while growing up in Brazil. At 13 I started studying bass guitar, then acoustic guitar and upright bass. I got a BA in Popular Music/Jazz Studies at the State University of Campinas (UNICAMP) and there I got to study and perform all kinds of musical genres and styles from classical to jazz and everything in between, playing in latin american ensembles in the mornings, rehearsing with the universities' Symphony in the afternoons and playing jazz and bossa nova gigs at night.
Halfway through college I got to work as an arranger and music director at church and also got to "be in the right places at the right times" getting some scoring gigs, playing with amazing artists and most specially got to record and go on tour with Brazilian pop singer Sandy (www.sandyoficial.uol.com.br). While "on the road" I enrolled in an online course from Berklee (Boston) on Orchestration for Film and TV, which allied with recording with a major artist allowed me to gain really valuable experience on recording and producing music.
All of that led me into being accepted at USC's prestigious SMPTV program and leave the unheard city of Campinas, Sao Paulo to see what "being in the right place in the right time" would feel like in the exciting Los Angeles.
And in that pursuit for bigger challenges I would be nowhere without the incredible support I get from my amazing wife and the adventurous spirit that she and my gorgeous little 4 year-old daughter share together.
When I'm not writing music, some of the things I love are watching Disney/Pixar movies with my daughter, skiing, pizza (from Sao Paulo) and just traveling anywhere new. Three things I absolutely love about California are 1) Discovering new exciting places with my family; 2) In & Out Burgers; 3) Disneyland Anual Passes. Send work my way and I'll send my girls to Anaheim right away, so your project will always have my full attention and dedication. For more on my music, please visit my website: www.alexheinrich.com