Zhao Zhao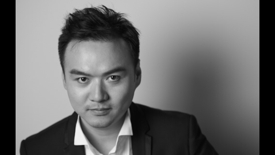 Zhao Zhao comes from Beijing, and he is a professional musician with 10 years experiences in China after 17 years of Music training. Mr Zhao graduated with music B.A. in China Central Conservatory of Music. Then, he starts his adventures in music composition and arrangement. Nowadays, He becomes one of the significant young music producers, composers, and arrangers of scoring for movies and documentary films. He always cooperates with top line stars of China such as Jackie Chan, Song Zuying etc.
His main credits are listed in different genres as following:
Public Events:
-The 29th Beijing Olympic Games(2008), "The Flame of Love" - Arrangement, sung by Placido Domingo and Song Zuying.
-The 30th London Olympic Game(2012), "Beijing Bless you"- Music Director & Arrangement, sung by International superstar Jackie Chan and other 176 famous celebrities in China.
Awards:
-Golden Melody Awards Taiwan, won and nominated the best arranger in 2014 , "Wind that shakes the Barley" in the album "the light", sung by Li Jian, the Music Poet in China.
-Golden Melody Awards Taiwan, Nomination for the best arranger in 2009, "Yo love song" in the album "Back to Wei", sung by Karen Mok, the famous Hong Kong singer.
Film Music:
In 2011, He worked with the Chinese famous composer Chen Qigang by participating in the production of Zhang Yimou's "The Flowers Of War" soundtrack;
In 2010, he scored "Don Quixote" that is the first Aisa costume 3D action comedy movie, which was directed by A Gan.
Documentary Soundtrack:
In 2013, he scored a music production for CCTV finance channel in the large documentary "BRICS".
In 2011, he also participated in CCTV documentary "the Imperial Palace 100" soundtrack production with Qigang Chen.
Pop Music:
In 2013 Jackie Chan's EP "Homeland" composer, arrangement & music producer.
Mr Zhao treats music as his life. He especially enjoys making soundtrack productions. The reason is that he would not be limited in certain musical style. Mr Zhao always likes to experiment the new musical elements.