Tiannan Cai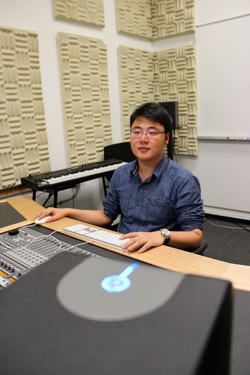 Tiannan Cai born in Ningbo, Mainland China, musically-trained in United States and now based in Los Angeles. He graduated from Academy of Art University with a M.F.A. in Music Production & Sound Design for Visual Media in 2014 and USC Thornton School of Music with Scoring for Motion Pictures and Television (SMPTV) in 2015.
Tiannan has been learned violin and piano since he was 10 years old. His works in multiple capacities with many different music styles, from film scoring, classical, and avant-garde to pop, jazz and Chinese traditional music. Especially, he has complete confidence in scoring with orchestra and uses instrumental colors to great advantage in his pieces. He is also very accomplished in music technology, both hardware and software: an imperative in today's world.
In the past few years, Tiannan composed a lot of Chinese films, animations, and video games, documentaries and held recording sessions at major scoring stages in Hollywood, such as Warner Bros. East West Studios, and Capitol Records, etc.
Tiannan's recent scores including original soundtrack for the short film Mission Quandary, which nominated for the 39th Montreal World Film Festival, World Competition Section; orchestrated for Chinese action movie "Who Am I 2015", which Produced by international superstar Jackie Chan; composed and arranged for Closing Ceremony of 2nd Silk Road International Film Festival. In December, 2015, Tiannan Composed and conducted 30-piece Orchestra for Chinese City Promotional Video: Jindong Impression, and the soundtrack recorded at East West Studio 1, Hollywood. His music on the Chinese 3D animation series Magical Legend, has had more than 10 million views.
Now, Tiannan has been scoring for video games, feature films, and Chinese-American Co-production 3D Animation, which will be released in China and U.S. in late 2016.Personal Page: www.tiannancai.com
Email: tylercai1029@gmail.com
© 2018 University of Southern California.