Nami Melumad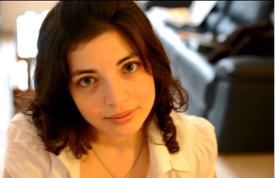 Nami Melumad is a Los Angeles based film composer and music producer, originally from Tel Aviv, Israel.
Her credits include over 50 films, theater productions, commercials and video games. Her films have screened worldwide, claiming multiple international awards.
As an active member of Women in Film (WIF) and the Alliance for Women Film Composers (AWFC), Nami is passionately involved in the film community, and was recently invited to be a guest speaker at a Filmmakers Alliance masterclass held in Hollywood and is part of the judging team for TopShorts festival.
She is a graduate of the highly rigorous Scoring for Motion Pictures and TV program (SMPTV) at the University of Southern California, where she was privately mentored by composer Thomas Newman. Upon graduating, the Society of Composers and Lyricists (SCL) selected her to participate in their mentorship program as well. Nami holds a B.A. in multi-style composition from the Jerusalem Academy of Music, where she was admitted directly to sophomore year.
She had recorded music at East West Studios, Capitol Records, Fox Newman Scoring Stage and Warner Brothers Eastwood Scoring Stage. Her works have been performed by the Haifa Symphony Orchestra, The Israel Sinfonietta Beer Sheva and Helix Collective Ensemble. She was recently honored at the Women Composers in Media event, held at the Ebell of Los Angeles (2016).
Nami plays flute, piano and guitar, and she frequently collaborates with Magic Productions for both commercial and artistic film productions. Having served 2 years in the army, Nami is a true team player. She is an avid film fan (obviously…) but also enjoys hiking, coffee and the occasional cat video on Youtube.