Brian LaGuardia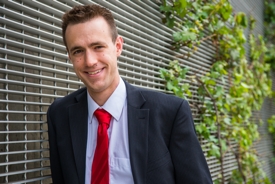 Brian LaGuardia has been immersed in music from a very early age. He began piano lessons at age six, taking lessons from such talent as Juliard graduate Jamie Shaak. He has had the privilege of studying conducting under extraordinary mentors such as Maestro Robert Olson of the Mahlerfest Orchestra, Maestro Devin Patrick Hughes, Maestro Vincent C LaGuardia, Jr. and has conducted several orchestras including the Arapahoe Philharmonic and the Boulder Symphony.

While he loves writing for the concert hall, he is also fascinated with film, television and video games and how music can blend with these mediums to create a unique and emotional experience. He holds a Bachelor's Degree in Game and Simulation Programming and three years experience as a software engineer, which rounds out his musical background with a practical knowledge of technology and game development. He is incredibly excited to collaborate with directors, programers and musicians alike!

In his spare time, Brian loves exploring nature, cooking and reading. He also enjoys copious amounts of movies, TV shows and video games. He love for music is matched only by a craving to be enraptured by storytelling.